The Brief
Premier Inn is the UK's largest hotel group. They came to us with a simple brief. Make a video based on the one-line proposition "Booking on the move has never been easier".
Background to the Brief
The same-day bookings market was growing. It now accounted for 6 per cent of total revenue and this called for investment in improving and re-launching its same-day booking app. Email, web and social marketing activity to raise awareness and encourage downloads would be centred on a 'hero' video.
Defining a Purpose
Looking more closely at what this video had to do, it was clear that there was quite a bit more to this brief than the one line proposition we started with. In fact the video had several jobs:
Announce the re-launch
Convey that the app is simple and easy to use
Include the call to action "Download our free iPhone and iPad app today"
Express the brand promise "Premier Inn, a great night's sleep guaranteed"
Communicate app features and functionality
Same night booking available.
Search for a room from one of our 650 hotels, or find the one closest to you.
Book and pay for a room securely.
Access your existing Premier Inn account and see past and present bookings.
Use the map function to find your hotel easily.
Ahead of creative development, breaking the tasks down in this way was necessary to apply a sense of order and priority: to define in advance a messaging hierarchy and establish a basis for ideation and scripting. And of course, we could not lose sight of the fact that for these messages to hit home we needed to entertain, as well as inform. Finally, we knew we had in our hands, an established, distinct and valuable UK brand. This was both an opportunity to capitalise on and a requirement to remain sensitive to.
Thinking about our Audience
Much less complex to cater for was the audience. We had information about user cases (business and leisure users), about geography (Midlands/Northern) and stats on gender splits (70% male business users). We decided to keep it simple and write for a single group. The same-day convenience bookers.
Creative Concept
Unusually we only presented one overarching creative concept at development stage. Because we were confident that it would work, given the requirements and the brand. Thankfully, we were right (whew!).
Coupling a voiceover with blended live-action and animation meant that we were able to cater for both volume-up and volume-down views and allowed us to drive messaging both subtly and explicitly three-ways:
HEARD : VIA VOICEOVER
SEEN : VIA THE MAIN ACTION
READ : VIA OCCASIONAL OFF-CENTRE TEXT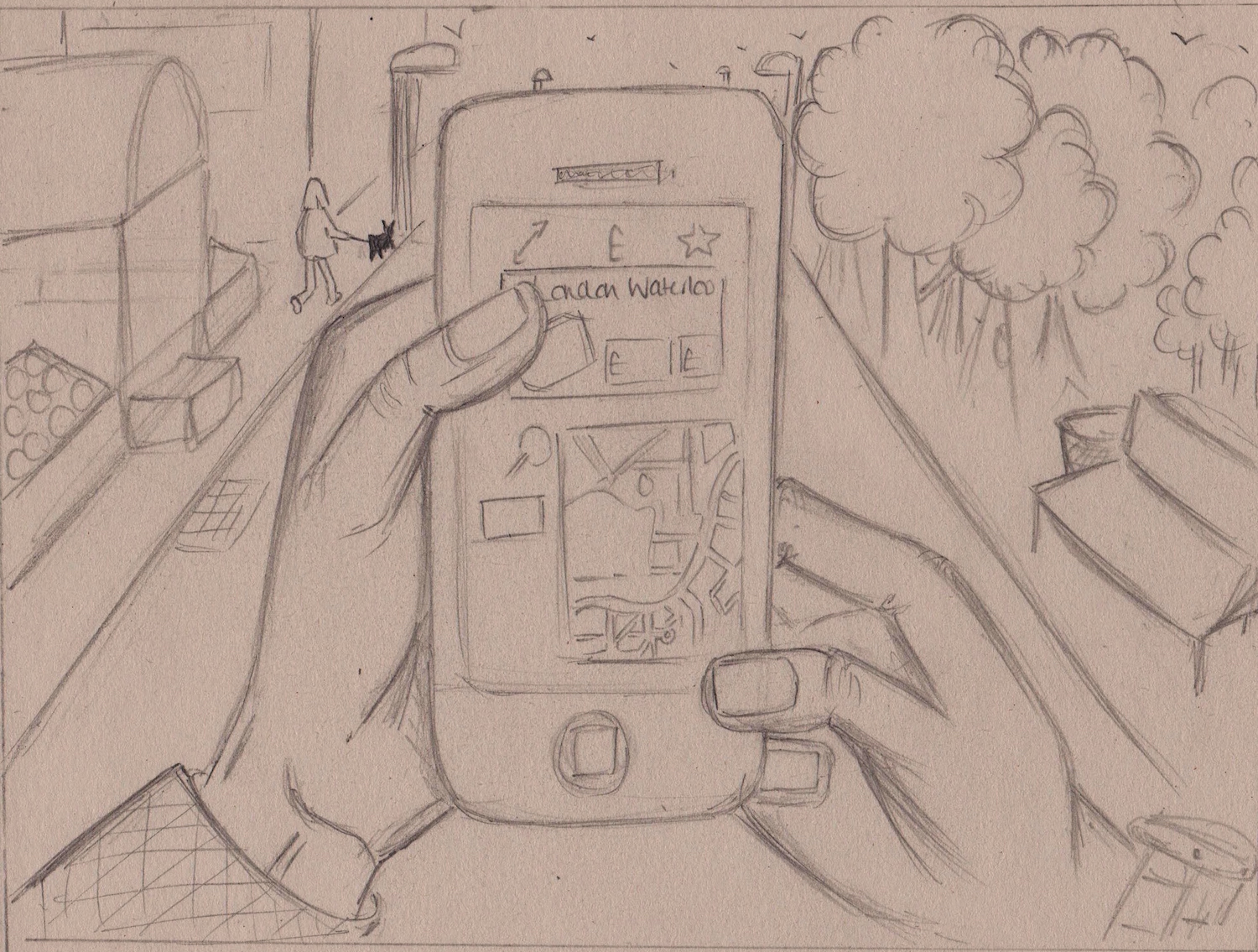 THE CHALKBOARD
Hand-drawn and redolent of the classroom, this afforded the sense that the app functionality is simple and easy to learn.
THE PURPLE
This allowed us to assign commonality with the dominance of purple in Premier Inn branding.
THE CHAlk drawings
Hand-drawn and redolent of the classroom, this afforded the sense that the app functionality is simple and easy to learn.
THE BLEND OF LIVE ACTION AND ANIMATION
This placed the chalkboard as a skyline and backdrop to a journey through the day of the same-day booker. It brought the use of the app into a "Chalkworld" of everyday on-the-move activities - a desk, on a train and arriving at a city. Animation was based on drawings made of existing Premier Inn interiors, the Waterloo exterior and London locations seen from the viewpoint of these hotels.
THE CUTS TO POINT OF VIEW
These focus on the device to the front and centre.
THE LENNY "FLOP"
With a strong nod to iconic TV advertising, the video ends with a post bed-flop ceiling POV.
HICCUPS
Our main actor/model's hands were far from fit for purpose. We managed to source a replacement hand-model with 30 minutes' notice.
We tried and tried to get the relaxed exhalation of breath, the 'Aaah' sound of the Lenny Flop, in the can.
Each and every attempt to voice it sounded wrong. And weird. We gave up.
We did. See if you can spot it...